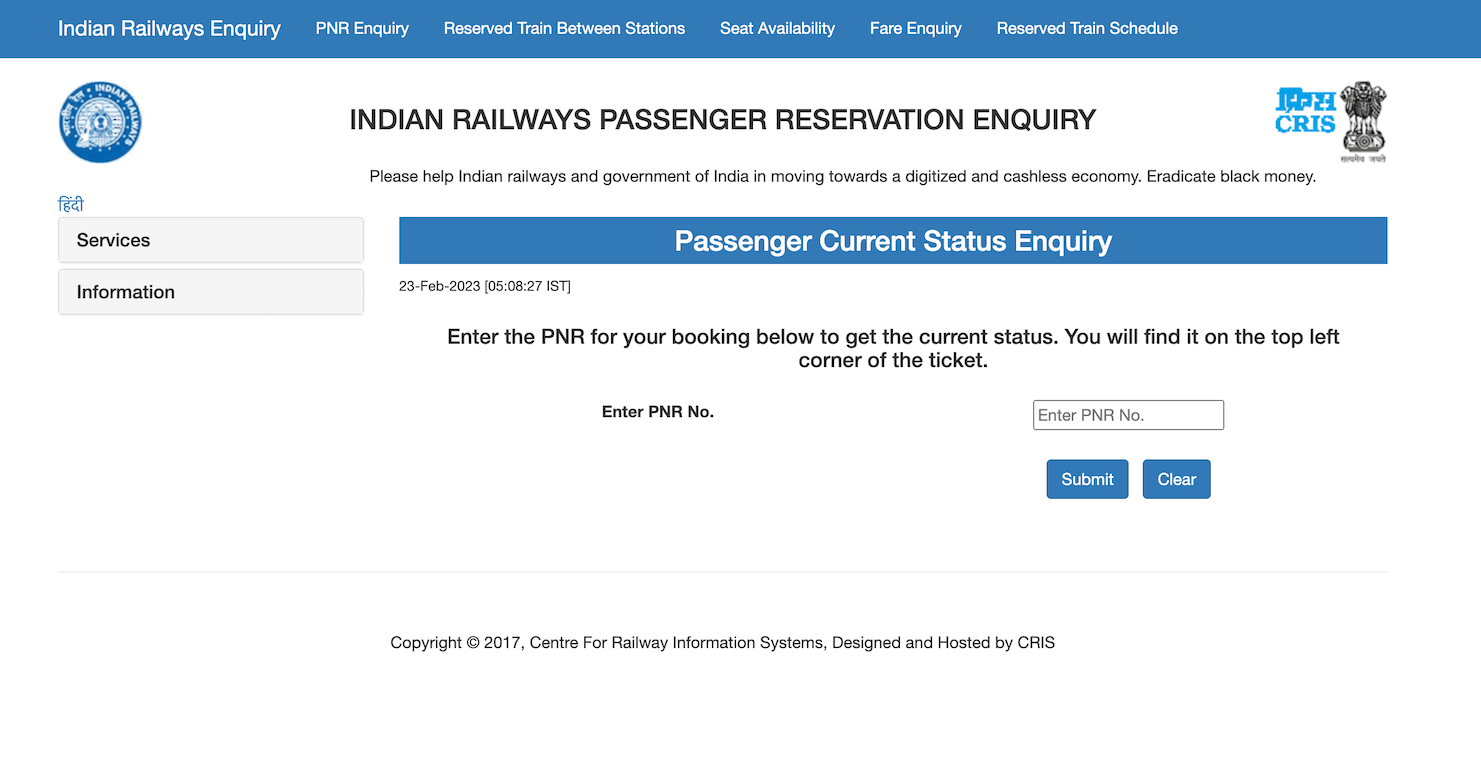 How to check IRCTC PNR status?
Open a browser and type indianrail.gov.in in the address bar.
Enter the PNR No. and click Submit.
The PNR status will be shown.
IRCTC Authorized Partners
Check PNR Status on the IRCTC Authorised Partners website:
Indian Railways Customer Services
SMS (related to passenger information) – 139
CALL – 139
Feedback and Suggestions through SMS – +91-9717630982
Official Twitter handles: @RailMinIndia @IRCTCofficial
For Railway tickets booked through IRCTC:
Download the official IRCTC Rail Connect mobile app on Google Play Store (Android) and Apple App Store (iOS).
Indian Railways Official Website
This is an official portal designed by CRIS (Centre for Railway Information Systems) which was established by the Indian Ministry of Railways in 1986. It develops and manages most of the important information systems of the Indian Railways.
IRCTC (Indian Railway Catering and Tourism Corporation) handles the catering, tourism, and online ticketing operations. If you have booked the train tickets from their website you can log in to the IRCTC website and go to Booked Ticket History > E-Tickets > Get PNR Status.
Frequently Asked Questions
What is PNR?
Passenger Name Record (PNR) is a unique 10-digit number that is provided against every Indian Railways train ticket that is booked across India. Each PNR number provides a variety of information to ticket-holder(s).
The PNR Status information includes ticket booking status (confirmed/waiting list/canceled), departure and arrival time, details of the train, seat number, and fare paid by the passenger for the seat. When group booking is done, then a single PNR may be provided to up to 6 passengers.
How to check PNR status via SMS?
To check the status of PNR No. by SMS –
Type "PNR (10-digit PNR Number)" and SMS it to 139.
Type "PNR (10-digit PNR Number)

" and SMS it to

5676747

.
Example: PNR 4422663355
*Standard SMS charges would be applied.
How to predict confirmation chances for a waitlisted ticket?
Whilst booking a ticket on the Indian Railway network, there is a pretty good chance that you will get a waitlisted ticket as it is pretty common. When all of the RAC seats are sold then the passengers are given Waiting List tickets.
If you are on the Waiting List then the chances of you getting a confirmed seat are if other passengers cancel their tickets. Ticket cancellations by other passengers will increase your chances of getting confirmed tickets.
What are the types of Indian Railways Tickets?
E-Tickets: Electronic Tickets (E-Tickets) are ones which you receive on online booking. You can either show it through your mobile to Ticket Checker (TC) or you may print a physical copy before boarding the train.
i-Tickets: These are the tickets you get when booking directly from reservation counters. You may also book the same ticket from IRCTC website and get it delivered to your doorstep.
About IRCTC
Indian Railway Catering and Tourism Corporation (IRCTC) is a subsidiary of the Indian Railways which is responsible for catering, tourism, and online ticketing operations. It is India's one of the largest eCommerce portal which handles over 7,00,000 ticket bookings every day and has revolutionized the online ticket booking experience with schemes such as Tatkal and Rolling Deposit Scheme (RDS).
It introduced standard, hygienic, and freshly cooked foods available to passengers and thus improving the experience of train travel. On 4th October 2019, Indian Railways launched "Tejas Express" which is India's first private train run by its subsidiary IRCTC.
It handles a great part of India's tourism for domestic and foreign tourists. Budget packages "Bharat Darshan" and Luxury packages such as "Buddhist Circuit Train" and "Maharajas's Express" are some of the most popular tourism plans. In August 2019, IRCTC launched a mobile app iMudra which provides easy access to the book and manage railway tickets.